Why your Hashtags don't work anymore
That is a blunt and tough statement to internalize . . . but it is true.
So let's make sure you are not wasting your time.
Read on and start with the basics so you can gain visibility and engagement.
What is a Hashtag?
A word becomes a hashtag when you add the "#" or hash symbol.
Use a Keyword that is relevant to your niche and add the "#" symbol and now you might have a hashtag that will gain you some visibility.
For example let's say you are in the Marketing business.
Is #marketing a good hashtag?
Here is what the heading of the hashtag group #marketing looks like:
The first important detail you see is the number of posts this hashtag group has which is almost 29,000,000 hashtags.
Trust me when I say you are wasting your time using this hashtag even if it is relevant to your niche.
Unless you are @garyvee or @grantcardone NO ONE will see your content.
We will talk about this strategy later in this post.
Hashtags are free
Hashtags are simple to use
They help your posts score better with the Instagram algorithm
And Micro Niche Hashtags are effective

Steve Wetmore Founder BuySellShoutouts.com
Marketers agree that if you find and use hashtags that serve your specific niche then your content will get more visibility.
More visibility means you will increase your chances of getting user engagement from your Social Media channels.
What is the most valuable Social Media engagement?
Influencers rank valuable Social Media engagement this way:
Influencers want Comments relevant to the post from their followers
Then Influencers want to gain real followers in their niche that continue to follow and comment on posts
And finally, influencers want post and video Likes and video Views
Social Media Comments from users in your niche are better than "Likes" or even "Followers".
Why are Comments better than Likes or Followers?
Very little effort is required to Like or Follow an account and the Instagram algorithm recognizes this as a "Win" or "Fail".
If you get a Follower that does not engage with your posts then you have one more inactive follower eroding your engagement score.
As your engagement score erodes social media algorithms work against you.
Use this formula to calculate your engagement score:
[(likes + comments of the last 10 posts, excluding the most recent one/10)/number of followers] x 100. Example: • 15,000 total likes (total of last 10 posts excluding the most recent) • 2,000 total comments (total of last 10 posts excluding the most recent) • 30,000 followers Formula: [(17,000/ 10)/ 30,000] x 100 = 5.66% (engagement rate)BuySellShoutouts.com
With a poor engagement rate your post loses any chance to appear on the Explore Page or Search Results.
We will talk about this strategy later in this post.
First, the best hashtags for someone selling Women's handbags will not be the same as the best hashtags for affiliate marketing.
There are no hashtags that work for all niches.
Some of the most respected marketers in the world suggest you use "The Most Popular Hashtags."
This is BAD advice and is a major contributor to why your hashtags don't work anymore.
In fact using some of The Most Popular hashtags is a terrible waste of your time and can actually risk your account from being blocked. Learn why in the section below on "What are Bad Hashtags?"
For example let's look at the Instagram hashtag #instagood – OMG – 992,541,430 posts – yes almost One Billion Posts.
Remember, a hashtag group with almost a Billion posts will not gain you visibility.
We will talk about this strategy later in this post.
Using hashtags that do not relate to your post is a waste of energy.
In fact it proves that you do not understand what niche you are in or simply – you don't know what you are doing.
Example of Bad hashtag
For example hashtags shown here in the hashtag group #bikinigirl – what does the bearded gentleman in the middle post have to do with the #bikinigirl hashtag?
There are also banned hashtags that can get your post removed or muted by Instagram.
Pornagraphic hashtags are banned and hashtags like these are restricted: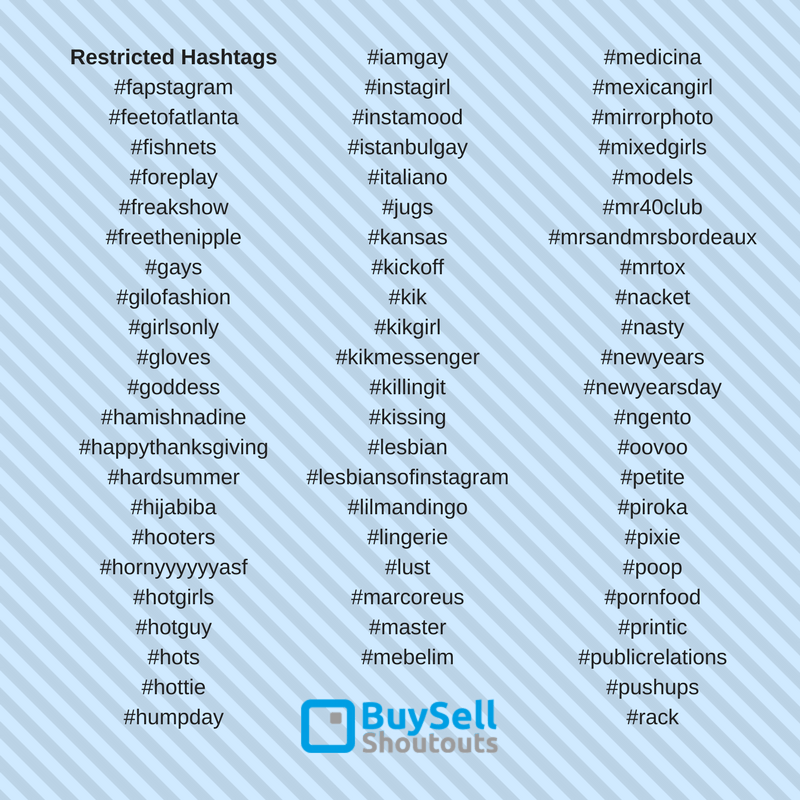 What happens when I try to use a restricted hashtag?
For example #excitada is a restricted hashtag and when you scroll through the hashtag group you will see this message below the posts:
"Recent posts from #excitada are currently hidden because the community has reported some content that may not meet Instagram's community guidelines"

Instagram.com
Hashtags need to be carefully selected and relate to your post.
Instagram engagement will increase only if your content is relevant to what people are looking for.
Instagram allows you to use up to 30 hashtags on a post but maximizing your hashtag usage does not improve engagement.
In fact a recent article published by Hootsuite identifies how engagement drops dramatically if you use 10 or more hashtags.
Remember this more than 9 hashtags don't work!!
The graph below, created by Hootsuite, shows the relationship between the number of hashtags used verses average engagement per post.
So my take away from this valuable information is that (OMG) we should use 9 hashtags per post.
And make sure to use 9 carefully selected hashtags to maximize my post visibility.
I must not waste time or valuable space on my post anymore!
Marketers have had success selling T-shirts on Instagram so let's take a look at a well used hashtag #tshirt. Is #tshirt a good hashtag to gain exposure?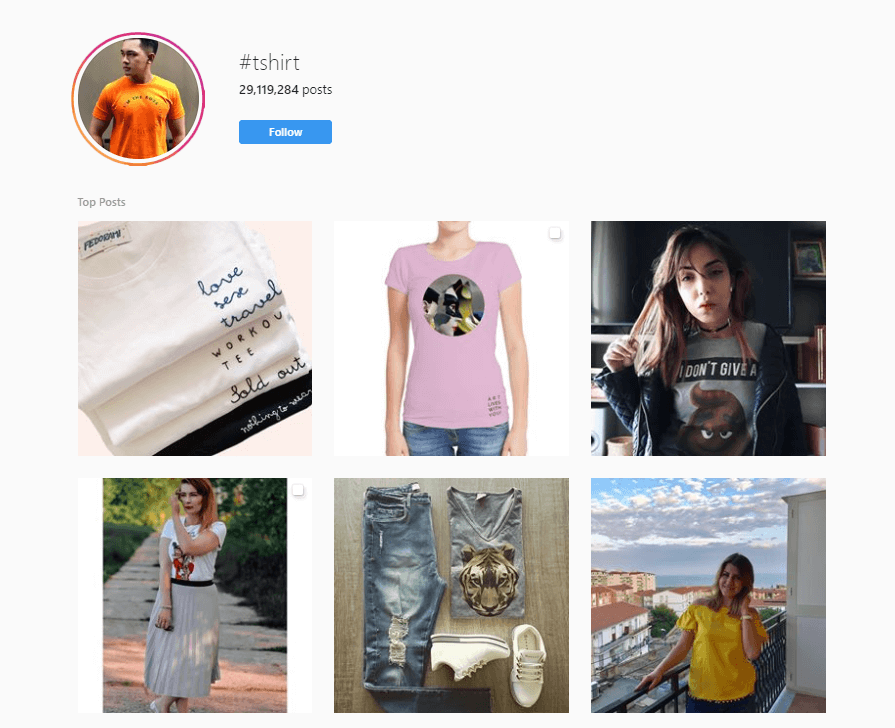 The first thing you notice is that there are over 29 Million posts using #tshirt and there are as many different posts as there are T-shirts.
Chances are slim that your post will be seen using #tshirt as a hashtag to gain visibility.
The fastest selling T-shirts in Canada is Raptors basketball themed. And if I'm in the T-shirt business in Canada I want to sell this product.
I want to dominate this category so I want to find an awesome hashtag.
So I went to the Instagram search bar and typed in #raptorstshirts – see the results below
What do you see as you look through this hashtag group?
The are a couple of useful points to recognize:
The group is very small – only 11 posts
The group is ultra niche focused
The group has 3 competitors that you can shadow and use their Branded hashtags.
For example @entripy has their own Branded hashtag #entripy.
Look for Micro Niche Hashtags with a group size of less than 50,000 posts. Hashtag groups with less than 10,000 posts are still good!
Look through the Hashtag Group and make sure that the people using this hashtag are in your Niche. For example if you are selling T-shirts and you see a lot of posts that are not relevant to "T-shirts" then you need to skip this group and find a group focused on your Niche.
Remember to check your competitor's for hashtag ideas. Use your competitor's branded hashtag and watch for engagement.
Create at least 3 lists of 9 hashtag groups and rotate using them on posts. In other words, don't use the same list over and over.
Verify that you are NOT using a banned hashtag. Search for updates on Google for "banned Instagram hashtags" at least monthly.
And finally, look at the performance of various hashtags and the hashtag lists you use. Change, add and delete them as required.